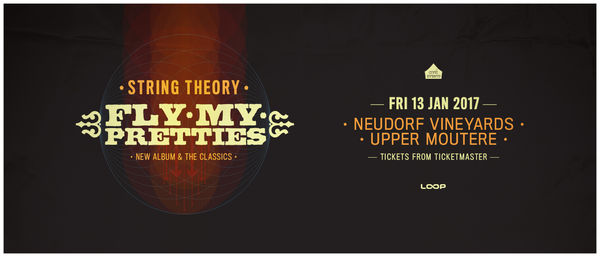 Upper Moutere, Neudorf Vineyards
When & Where
13 Jan 2017, Neudorf Vineyards, Upper Moutere
KIDS UNDER 12 FREE WITH A PAYING ADULT
Friday 13 January, Upper Moutere, Neudorf Vineyards
STREAM/PURCHASE STRING THEORY HERE
After 9 amazing shows in Auckland and Wellington recording String Theory, we're proud to announce Fly My Pretties will be taking the album on tour this summer across New Zealand, playing some of our most stunning outdoor venues!
The summer album tour will see FMP perform their new album String Theory alongside the FMP classics in a 3 hour set.
For the first time since 2013's Homeland Tour, this run of shows will see a 14-strong cast take to the stage, with a number of special guests.
Frontman and musical director Barnaby Weir will be joined by his The Black Seeds bandmates Jarney Murphy and Nigel Patterson, who, along with Mike Fabulous and Iraia Whakamoe, James Coyle & Ryan Prebble (The Nudge) form the backbone for Fly My Pretties. Bailey Wiley, Laughton Kora, Ria Hall and Tiki Taane all feature as four performers who are performing at the peak of their powers. The cast is rounded out by A Girl Named Mo, Ills Winter and Miloux, three artists who are back to blow more audiences away across January.
The new album String Theory explores the fabric of our existence through music, uncovering the cosmos and trying to unlock our place within it. This tour will bring the album, the sixth outing from Fly My Pretties, to life in the way the songs were meant to be heard: live and at full power.
Described as a "cosmic trip through the universe inside and outside us – led by some of Aotearoa's finest musicians" by 13th Floor reviewer Stephen Allely, the new Fly My Pretties show is set to enchant audiences across the country.
Tickets are $72.00 plus booking fee.
Bus Info:
The bus leaves Nelson Coachlines Depot (27 Bridge Street) at 5.30pm, the Tahuna outside 623 On The Rocks at 5.40pm, the Stoke Tennis Court, Main Road Stoke at 5.50pm, Opposite shows on Salisbury Road Richmond at 6.00pm and outside the Top Ten Holiday Park Gladstone Road Richmond at 6.05pm. The bus will leave promptly after the concert from the main entrance and drop off at the same locations.
Bus tickets from Ticketmaster: http://ticketmaster.co.nz/event/24005119CFE51AB5?SREF=TWEvent