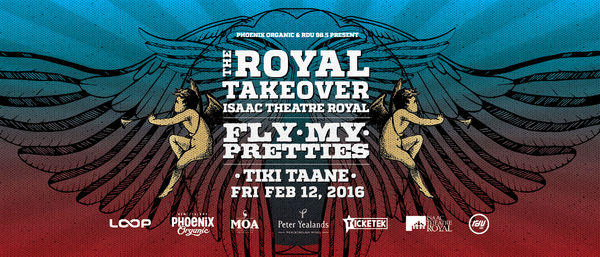 THE ROYAL TAKEOVER - Fly My Pretties & Tiki
When & Where
12 Feb 2016, Issac Theatre Royal, Christchurch
PHOENIX ORGANIC & RDU 98.5
PRESENT THE ROYAL TAKEOVER
FLY MY PRETTIES WITH SUPPORT FROM TIKI TAANE
Once again, Fly My Pretties will play the Isaac Theatre Royal in Feburary 2016. This time, Fly My Pretties are stepping it up, with support from Tiki Taane, and an epic after party upstairs in the theatre.
Barnaby Weir has once again assembled a 15 strong cast of FMP favourites with a couple of new faces, and we're stoked to announce the full cast for this show!
FULL CAST:
Anna Coddington
Bailey Wiley
Barnaby Weir
Holly Arrowsmith
Iraia Whakamoe (The Nudge)
Jarney Murphy (The Black Seeds)
Kara Gordon
Laughton Kora
Mara TK (Electric Wire Hustle)
Mel Parsons
Mike Fabulous (Lord Echo)
Nigel Patterson (The Black Seeds)
Ria Hall
Ryan Prebble (The Nudge)
Shaun Blackwell (Night Shades)
The after party will feature Loopcrew and Flash Harry, along with MC's Tiki Taane, Laughton Kora, Mara TK, Bailey Wiley & special guests.
This is the only Fly My Pretties South Island show planned for 2016, and playing the Isaac Theatre Royal close to the anniversary of the Christchurch earthquake has quickly become a ritual and one of the most important fixtures in the Fly My Pretties calendar.
Proudly brought to you by Phoenix Organic and RDU 98.5, with thanks to Peter Yealands Wines and Moa.
THE ROYAL TAKEOVER: Fly My Pretties w/ Tiki Taane
Friday February 12, 2016
Isaac Theatre Royal, Christchurch
MAIN SHOW TICKETS
AFTER PARTY TICKETS

THE ROYAL TAKEOVER:
Box office opens 6:00pm
Doors open 7:30pm
Tiki Tane: 8:30pm
Fly My Pretties 9:05pm
Interval 10:00pm (30 Minutes)
Finish: 11:30pm (Approx)
Afterparty: From Midnight