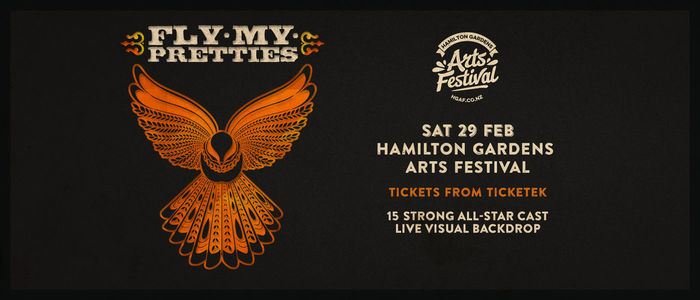 The Hamilton Gardens Arts Festival
When & Where
29 Feb 2020, 8pm, Rhododendron Lawn, Hamilton Gardens
Fly My Pretties are excited to announce a special outdoor show on the beautiful Rhododendron Lawn at The Hamilton Gardens Arts Festival on Sat Feb 29, 2020.
5:30pm Gates for VIP show
6:00pm VIP show (Mansfield Garden)
7:00pm: Gates for main show
8:00pm: Main show starts (Rhododendron Lawn)
GA Tickets - $62.50
VIP Tickets - $195.00
One FREE ticket for children under 12 per GA ticket purchased. All children must be accompanied by an adult and may be asked for proof of age. Additional children tickets only $8.50.
This Fly My Pretties show will see a 15 strong cast from all six incarnations come together to celebrate The Studio Recordings Part One & Part Two (out next May)
This performance is the collectives first show in Hamilton in 7 years and will see Fly My Pretties perform songs from their new studio albums alongside other FMP favourites in front of an original visual backdrop.
VIP tickets: As well as access to a one-of-a-kind sunset show on the Rhododendron lawn, VIP tickets also include entry to an intimate, exclusive 30 minute pre-show performance from Fly My Pretties cast members Barnaby Weir, Anna Coddington and Ryan Prebble in the magnificent Mansfield Gardens. The Mansfield Garden represents the early 20th century New Zealand garden described in Katherine Mansfield's short story 'The Garden Party' with inspiration for the setting taken from her parents' house in Tinakori Road, Wellington and the Edwardian period in New Zealand. A perfect setting for Wellington's favourite musical collective! VIP ticket holders will be entitled to two complimentary drinks, canapés, free parking and the chance to grab a good spot for the main show. Ticket numbers are limited.
The Studio Recordings represent the first studio recordings in Fly My Pretties 15 year history, and presents the collectives most-loved tracks in a brand new setting. Featuring a cross section of artists who have been involved with Fly My Pretties since its inception, some who have popped up sporadically, and others who have recently joined the whanau. Part One is out now.