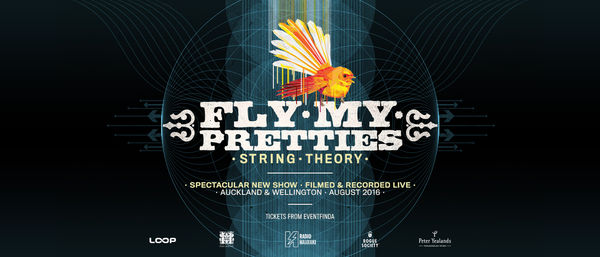 String Theory - Auckland Matinee
When & Where
13 Aug 2016, Mercury Theatre, Auckland
Saturday August 13th, 1pm Matinee, Mercury Theatre
Doors 1pm, Show 1.30pm, Ends 4pm

Fly My Pretties are back with String Theory – a brand new musical and visual experience in a series of intimate shows this August!
String Theory will enlist a new 14-strong cast of FMP favourites and new faces to explore the fabric of our existence through music. Each show will be accompanied by breath-taking interactive visuals.
The 14-strong cast for String Theory will see Barnaby Weir joined by returning members Iraia Whakamoe, James Coyle & Ryan Prebble (The Nudge), Jarney Murphy & Nigel Patterson (The Black Seeds), Mike Fabulous (Lord Echo), and Ria Hall. String Theory will also mark the first time Bailey Wiley, Laughton Kora and Tiki Taane will take part in an FMP album recording, and entering the fold for the first time are three of New Zealand's fastest-rising vocal talents - A Girl Named Mo, Ills Winter, and Miloux.
"Waves of energy surround us constantly," says Barnaby Weir of the show's concept. "Our heartbeat sets the rhythm and our mind syncs in harmony with the frequencies of our existence at every point in time simultaneously.
Music expresses our emotions, and its gravity pulls us together and pushes us apart. This continuation expands like a ripple through the multiverse. String Theory will explore this realm of possibilities through musical storytelling."
Following a run of sold out shows in Auckland and Christchurch in early 2016, each show performed will be filmed and recorded live, and will make up album six for Fly My Pretties, and the first since The Homeland Recordings. Each talented guest will explore their own existence through time and space with their own unique stories. The cast will be announced in early June.
The String Theory shows will take place at Auckland's Mercury Theatre, and Wellington's Paramount Theatre, and will mark the first time Fly My Pretties have played to an intimate audience in over three years.
Both cities will also have a family-friendly matinee show on the Saturday, with a selection of heavily discounted but limited tickets for children available.
Fly My Pretties – String Theory will bend space and time through light and music, revealing the true fabric of life that binds us together as one.

Tickets for on sale Friday May 13 from Eventfinda.
Brought to you by Radio Hauraki, Peter Yealands Wine, Hallertau & Rogue Society Gin.