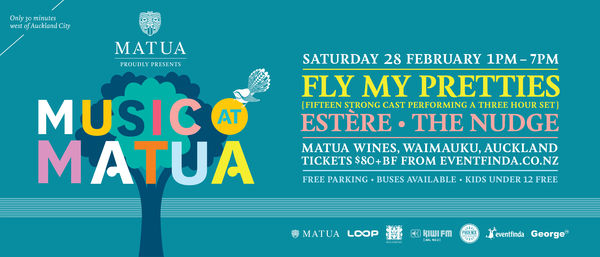 Music at Matua 2015: Fly My Pretties, The Nudge & Estere
When & Where
28 Feb 2015, Auckland
Music at Matua will see the highly anticipated exclusive appearance by headliners, Fly My Pretties who bring with them a fifteen strong all-star lineup in what is their only Auckland show for 2014/2015.
Warming up the stage are two truly up and coming acts with 2014's golden girl of electric blue witch hop Estère and mind bending multi genre 3 piece The Nudge.
Set in the picturesque surrounds of the Matua Vineyard – just 30 minutes west of Auckland City, Music at Matua is the perfect summer celebration.
Pretties are bringing a stellar 15 strong cast who will bring an epic 3-hour show from all 5 albums sprinkled with some new goodness. The Fly My Pretties Matua cast is: Anna Coddington, Bailey Wiley, LA Mitchell, Lisa Tomlins, Mara TK, Age Pryor, Laughton Kora, Kara Gordon, Barnaby Weir, Jarney Murphy, Mike Fabulous, Nigel Patterson, Iraia Whakamoe, James Coyle, & Ryan Prebble.
After two successful years of bringing you the best in contemporary kiwi music with the likes of The Phoenix Foundation, TrinityRoots and Lawrence Arabia, Music at Matua is back. Set amongst a beautiful backdrop Music at Matua has established itself, as Auckland's premiere, family friendly boutique festival.
EVENT INFO:
Matua Wines, 311 Waikoukou Valley Rd, Waimauku, Auckland. 30 Mins from the city.
Free parking will be available at Matua on the day.
For those travelling from the city, event buses will be leaving from the carpark located at 34 Sale St, Auckland (opposite Sale St bar) with parking available (parking rates apply). The first bus will be leaving at 12pm and returning to the same location after the event.
Children 12 years of age or under are free when pre-registered via their legal guardians' tickets. All children must be accompanied by a parent or legal guardian.
A range of vendors will be selling food on the day however; attendees are welcome to bring a picnic. Liquids are prohibited from being brought into the venue.
Limited Earlybird tickets $70+BF
GA tickets $80+BF
Return Bus tickets $17.50+BF
RUNNING TIMES:
Gates Open: 12:30pm
Live Music: 1:30pm
Approx Finish Time: 7pm
ABOUT THE BANDS:
FLY MY PRETTIES
Once again, ring-leader Barnaby Weir will be assembling some of New Zealand's finest musicians with a 15 strong stellar cast performing all the fan favorites from their five albums as well as new songs from a couple of surprise additions to the line up. Fly My Pretties have always sought to showcase the best talent and musical diversity that New Zealand has to offer and their Music at Matua performance will be a true celebration of this rich heritage and tradition. Since its inception, Fly My Pretties has grown to become a local legend of music that continues to reach people all over the world. The focus is on original music and artistic collaboration, but the surrounding themes and aesthetics have made it much more of an experience than just a concert.
ESTÈRE
Estère is a girl with an MPC she calls Lola. She produces all her own songs with Lola. Estère plays/records a mixture of bass, synth, drums, guitar, vocal harmonies, keyboard, whistles, claps, kazoo, desk tapping and anything else that might take her fancy then layers her production with pulsating rhythms and evocative melodies that adhere to the genre of electric blue witch hop. Since obtaining Lola in March 2012, Estère has played a large variety of live performances in cities and festivals throughout New Zealand, Australia and Europe. While in NZ Estere has opened for a variety of international artists, including Erykah Badu, Morcheeba & KT Tunstall.
THE NUDGE
The Nudge have been forming their genre crossing sound over the last 5 years and honing it to multi genre perfection. Formed initially from Ryan Prebble and with the addition of James Coyle and Iraia Whakamoe, The Nudge has come to find their sound far more psychedelic and hypnotic. The Nudge is best seen live and left for the individual to find what they call home. One thing is for sure, no matter who you are this act is not to be missed as one you will find something inside The Nudge that will make you feel alive.