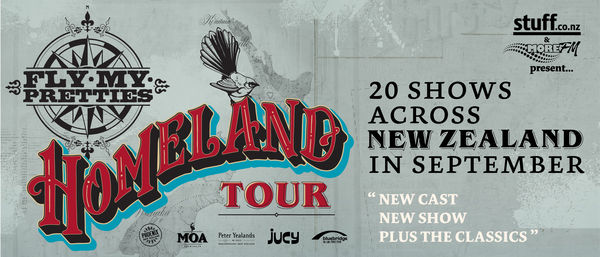 Mercury Theatre, Auckland (2 Shows)
When & Where
10 – 11 September 2013, Auckland
BOTH SHOWS SOLD OUT. COME TO HAMILTON BY CLICKING HERE.
Tuesday 10 September - SOLD OUT
Wednesday 11 September - SOLD OUT
$65 + BF & Any Additional Charges
Available online, at Real Groovy or full list of outlets HERE
Doors 7pm, Show 8pm, Ends at approximately 11.30pm
Age Restriction: All Ages
September 2013 will see Fly My Pretties return to their roots, as they embark on 20 intimate shows across New Zealand on the Homeland Tour.
With the musical journey beginning at Aotearoa's tip in Kaitaia and ending in the Southern-most city of Invercargill, the 20 date regional tour will see the collective chart a route rarely explored by top live acts.
Fly My Pretties has proudly introduced many breakthrough musicians over the past decade and once again bring together an exciting mix of undiscovered & established talent to join founder, Barnaby Weir.
With a cast that reflects a diverse mix of New Zealand's musical landscape, the Homeland Tour welcomes the following musicians: Anika Moa, Mel Parsons, Ria Hall, Barnaby Weir, Jarney Murphy, Kara Gordon, Louis McDonald, Mark Vanilau, Mike Fabulous, Nigel Patterson, Ryan Prebble & Shaun Blackwell.
New cast members include: Two time Tui-nominated folk musician, Mel Parsons; singer, Maori TV presenter & Reggae All Star member Ria Hall who despite joining FMP for one-off shows has never recorded with the cast; Kara Gordon – an amazing undiscovered talent who is in Europe working with Finlay Quaye and the Alabama 3; Louis McDonaldsinger & guitarist of rising stars, Five Mile Town who just won the 2013 International Songwriting Competition; Mark Vanilau who is known for performing alongside the country's great names including Dave Dobbyn and is one third of 'Vanilau, Maxwell, Baker' (alongside Warren Maxwell & Louis Baker); Shaun Blackwell an up and coming singer-guitarist in the capital's folk/country outfit, John The Baptist; and finally a member who needs little introduction, Anika Moa who is currently writing her new album before heading off on the road with FMP – hopefully to road test a song or two!
Returning cast members include Barnaby Weir (Fly My Pretties founder and The Black Seeds front man); Ryan Prebble (talented singer and guitarist from Wellington Blues band, The Nudge); drummer Jarney Murphy, bass player Mike Fabulous, and keys player Nigel Patterson (all The Black Seeds).
The tour will see Fly My Pretties hark back to their musical roots with a sound reminiscent of their first 2 live albums - Live at Bats & The Return Of – an unashamedly kiwi sound stepped in folk, roots, soul & rock.
Fly My Pretties are travelling to 18 towns to perform and record their new album plus the classics. Expect an intimate show and a new visual concept that will uniquely reflect upon the heritage & heartland of New Zealand.