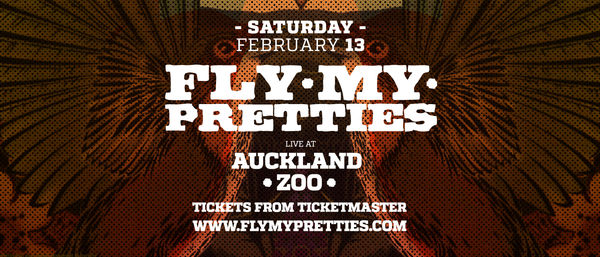 Live at Auckland Zoo
When & Where
13 Feb 2016, Auckland Zoo
FLY MY PRETTIES
AUCKLAND ZOO
SATURDAY FEBRUARY 13, 2016
Fly My Pretties will play their only 2016 North Island show at Auckland Zoo on Sat Feb 13.
Barnaby Weir has once again assembled a 15 strong cast of FMP favourites with a couple of new faces, and we're stoked to announce the full cast for this show!
FULL CAST:
Anna Coddington
Bailey Wiley
Barnaby Weir
Holly Arrowsmith
Iraia Whakamoe (The Nudge)
Jarney Murphy (The Black Seeds)
Kara Gordon
Laughton Kora
Mara TK (Electric Wire Hustle)
Mel Parsons
Mike Fabulous (Lord Echo)
Nigel Patterson (The Black Seeds)
Ria Hall
Ryan Prebble (The Nudge)
Shaun Blackwell (Night Shades)
Fly My Pretties are teaming up with Auckland Zoo to highlight the plight of New Zealand native coastal birds for this special show and they've discovered that there are easy ways to help them. These include keeping your dogs on a leash when visiting the beach this summer, take all your rubbish away with you and if you see rubbish, pick it up!
Check out some members of Fly My Pretties meeting the Zoo's rescued Blue Penguins here!
Fly My Pretties at Auckland Zoo is an all ages event with children under 5 free and tickets on sale NOW through Ticketmaster.
FLY MY PRETTIES
SATURDAY FEBRUARY 13, 2016
AUCKLAND ZOO
Tickets available now from Ticketmaster.co.nz