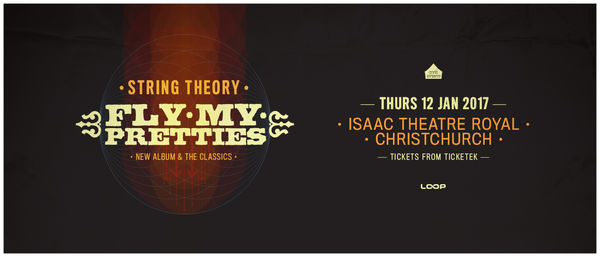 Christchurch - Issac Theatre Royal
When & Where
12 Jan 2017, Issac Theatre Royal, Christchurch
SHOW HAS BEEN MOVED! NEW DATE -
Thursday 12 January, Isaac Theatre Royal
Fly My Pretties' Christchurch show has been moved from Waipara Hills Winery to the Isaac Theatre Royal.
STREAM/PURCHASE STRING THEORY HERE
Frontman and musical director Barnaby Weir will be joined by his The Black Seeds bandmates Jarney Murphy and Nigel Patterson, who, along with Mike Fabulous and Iraia Whakamoe, James Coyle & Ryan Prebble (The Nudge) form the backbone for Fly My Pretties. Bailey Wiley, Laughton Kora, Ria Hall and Tiki Taane all feature as four performers who are performing at the peak of their powers. The cast is rounded out by A Girl Named Mo, Ills Winter and Miloux, three artists who are back to blow more audiences away across January.
This tour will bring the album, the sixth outing from Fly My Pretties, to life in the way the songs were meant to be heard: live and at full power.
Described as a "cosmic trip through the universe inside and outside us – led by some of Aotearoa's finest musicians" by 13th Floor reviewer Stephen Allely, the new Fly My Pretties show is set to enchant audiences across the country.
Tickets are $72.00 plus booking fee.